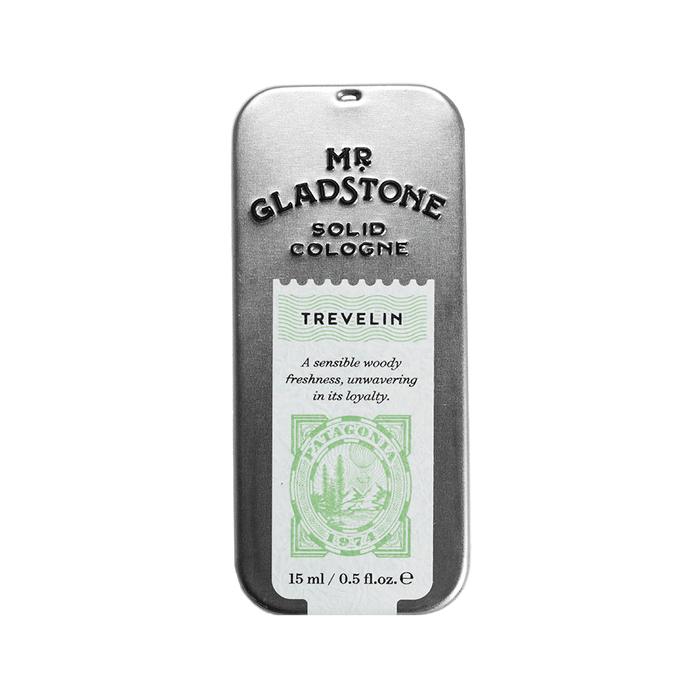 Mr. Gladstone Trevelin Solid Cologne - Fine Fragrance Reminiscent of 1974 Patagonia
Please Login / Register to view pricing and purchase products.
Mr. Gladstone crafts natural, solid wax-based colognes designed to roam, navigate and traverse life's thrilling paths with effortless confidence.
Portable, durable and discreet, a mere dab on the pulse points has the endurance and vigor to withstand a long day's journey into night.
Directions of Use:
To apply, lightly slide a finger over cologne and dab onto pulse points such as the wrist, or behind the ears and neck.


Ingredients:
Shea butter, coconut oil, mango butter, sweet almond oil, emulsifying wax, grape seed oil, and other artificial and natural ingredients.
Natural, wax-based solid cologne designed to traverse life's thrilling paths with effortless confidence.
A sensible woody freshness, unwavering in its loyalty.

Wranglers off in the grassy distance settle in for a committed day of hanging with the herd. The wealth of unspoiled land sprawled in the form of pristine lakes and manicured flower fields. Pastoral around every bend, not even the dramatic, glacial slopes and peaks of the Andes can ruffle the feathers of a Trevelin day.

Trevelin's wild & windblow scent notes include vetiver, geranium, oakmoss, cedarwood, cinnamon, and juniper.