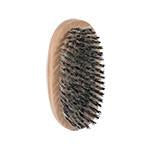 Scalpmaster Oval Palm Brush (Beige)
Please Login / Register to view pricing and purchase products.
Bristle Type: Boar/Nylon
Handle: Military (9 row, 4-3/4 inches)
Hair Type: Medium
The Scalpmaster Oval Palm Brush is crafted with nylon bristles that have been merged with boar bristles. Made with nylon to untangle hair in a few strokes, the boar bristles also stimulates the scalp to encourage hair growth. Crafted with natural wood for a polished look. Elegant from beginning to end.