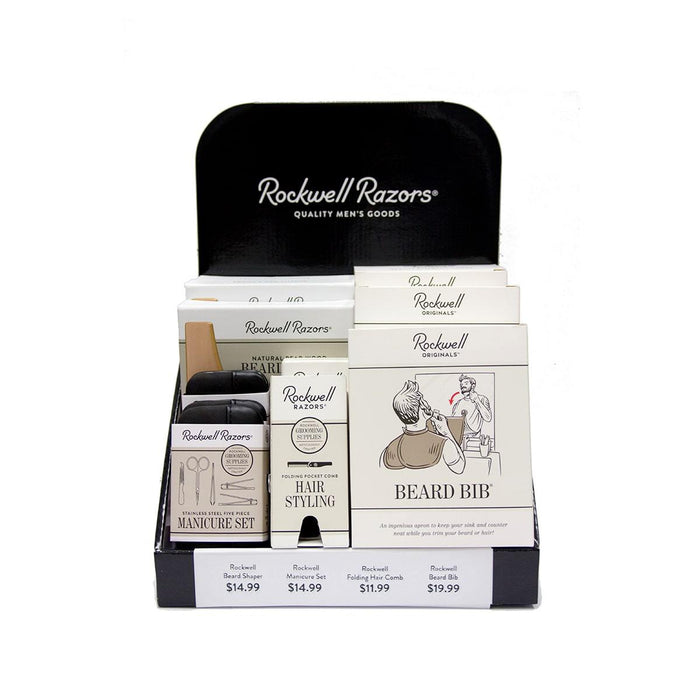 Rockwell Gift Collection Retail Display Bundle (New)
Please Login / Register to view pricing and purchase products.
*COMES WITH FREE SAMPLES!*
This filled retail display Includes 3 Rockwell Beard Shapers, 4 Rockwell Manicure Sets, 4 Rockwell Folding Hair Combs, and 3 Rockwell Beard Bibs. Comes with Navy/White header.  
With header: 10" x 8'' x 14" (LxWxH)
Without header: 8" x 8'' x 14" (LxWxH)
Rockwell's Gift Collection offers quality men's products to your clients at unbeatable prices. Whether it's Christmas, Father's Day, a birthday or other special occassion, Rockwell's line of superior grooming products make for the perfect gift.
Rockwell  Manicure Set
A pure stainless steel manicure set for on-the-go grooming. 
Rockwell Beard Shaper
The ultimate tool to shape, style and line-up the beard quickly and effortlessly. Hold up to each side of the face to achieve the perfect beard lines.
Rockwell Beard Bib
Catches hair when shaving or trimming. No mess and no clogged drains. Use the two suction cups to stick the Beard Bib to your mirror. 
Rockwell Folding Pocket Hair Comb
Durable acrylic folding comb. Folding design to fit perfectly in a pocket. Rounded teeth designed to be gentle on the scalp.