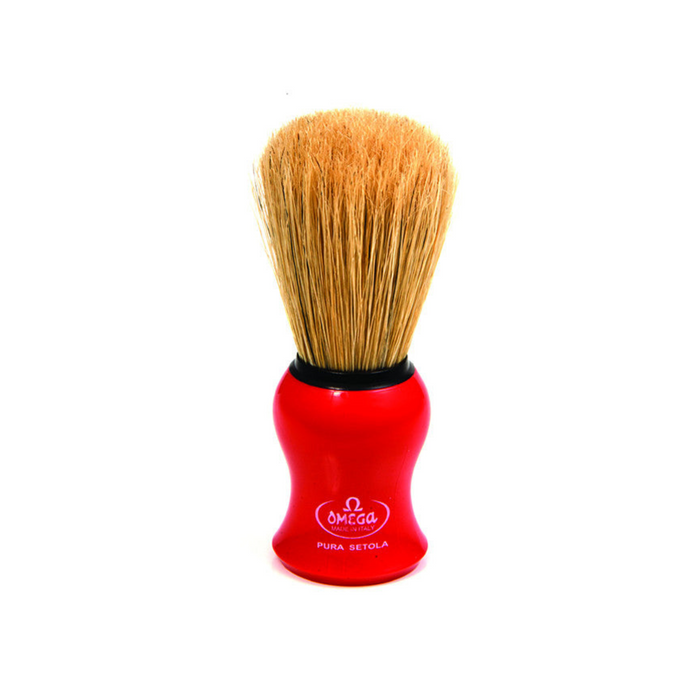 Omega Boar Bristle Shaving Brush, Red
Please Login / Register to view pricing and purchase products.
Description:
For an electric shave, this red shaving brush will produce the perfect lather. Soft boar bristles accompany all ebbs and flows as it attacks shaving from all angles. Just a small dab of soap creates a soft lather for a quick and easy shave. Possessing a simple but nonetheless distinguished appearance, the Omega Hog Bristle Shaving Brush, Red Handle with hog bristles is an excellent example of Italian craftsmanship. This brush is a wet shaving favorite!
Key Features:
Traditional shaving brush.
100% hog Bristle knot, no synthetics blended in.
Durable and lightweight.
Features a durable, bold, and vibrant red resin handle.
Sturdy and absorbent bristles.
Black ring secures bristles in place.
The bristles lift the hair off the face, allowing the razor to get much closer to the skin for an unbeatably smooth finish.
Rigid yet soft bristles help to gently exfoliate your skin.
Ideal for both hard and soft soaps.
Knot diameter: 25 mm, Bristle loft: 63 mm, height: 63 mm. 
Omega brushes are handcrafted in Italy.