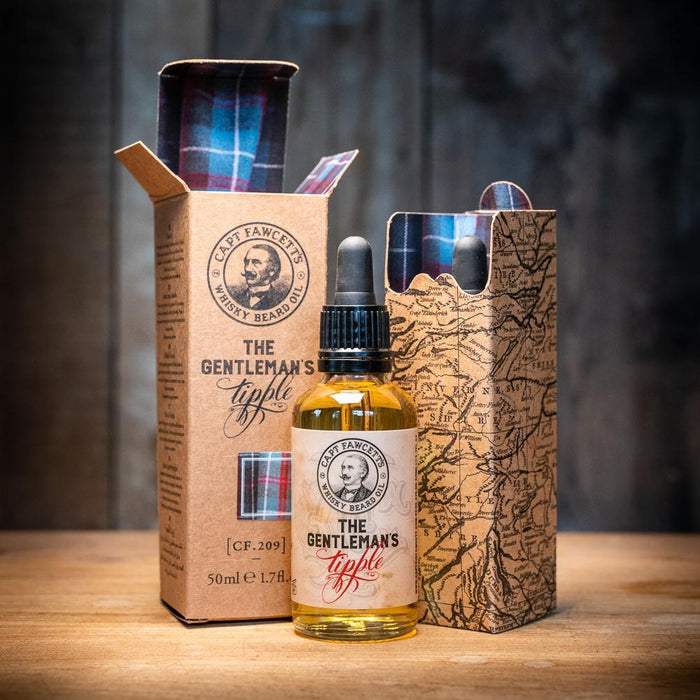 Captain Fawcett's 50ML Whisky Beard Oil
Please Login / Register to view pricing and purchase products.
Description:
By popular request and further inspired by the success of the 'Gentleman's Stiffener' Speyside Malt Whisky Moustache Wax, I am delighted to introduce you to my luxuriant whisky inspired Gentleman's Tipple Whisky Beard Oil, an opulent elixir, lavishly infused with the aroma notes of the Captain's preferred wee dram. A veritable livener no less for those who are hirsute of the face. Slangevar!
Key Features:
Supplied in a labelled clear glass bottle with a rubber topped glass pipette for accurate dispensing.
Handmade in small batches by the Captain's master blender utilising f

our nourishing base oils,

Fragrance (Parfum) and the essential oils of Cinnamon Le.

Gives beard a healthy shine.
Gently massage into beard or comb through.
Ingredients: Base Oils: Sweet Almond Prunus Amygdalus Dulcis, Jojoba Simmondsia Chinensis, Sunflower Seed Helianthus Annus, Vitamin E Tocopherol, Fragrance (Parfum).
Essential Oils: Cinnamon Leaf Cinnamomum Zeylanicum, Nutmeg Myristica Fragrans, Clove Bud Eugenia Caryophyllus.
Allergens: Linalool, Eugenol, Geraniol, Isoeugenol, Limonene, Cinnamic Alcohol, Cinnamic Aldehyde, Benzyl benzoate, Benzyl alcohol, d-Limonene.
Weight: 50ml/1.7 fl.oz
Made in England.