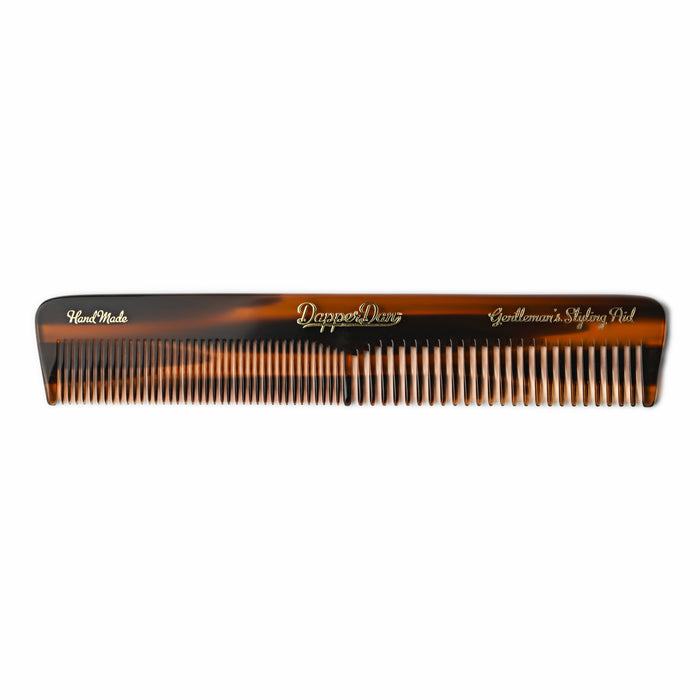 Dapper Dan Sawcut Styling Comb
Please Login / Register to view pricing and purchase products.
Description:
Dapper Dan's signature blended pomades, mattes, and clays have helped millions look and feel incredible. However, perfection is only attainable with the right tools, which is why the British manufacturer of men's commodities has crafted this miraculous Sawcut styling comb. You can put your confidence in this delightful Dapper Dan product, brimming with rustic charm for the long run.
Key Features:
Premium Hand Made Pocket Comb is saw-cut and hand-polished to perfection, to provide a smooth glide through the hair or beard.

Hair Styling Comb For Men offers gentle non-scratch treatment of the hair and scalp and glides through the hair easily and sensitively.

Perfect for use with any of our tinned hair styling products.

 

The

 

styling comb helps to evenly spread any of our pomades, matt paste, clay wax products evenly, helping you to achieve the perfect hairstyle.

Dapper Dan Hair Styling Comb is handmade in England and designed by professionals with over 10 years of hairstyling experience to make sure it is suitable for all your hair styling needs.
Dimensions: (170mm x 30mm)
Made in the UK.