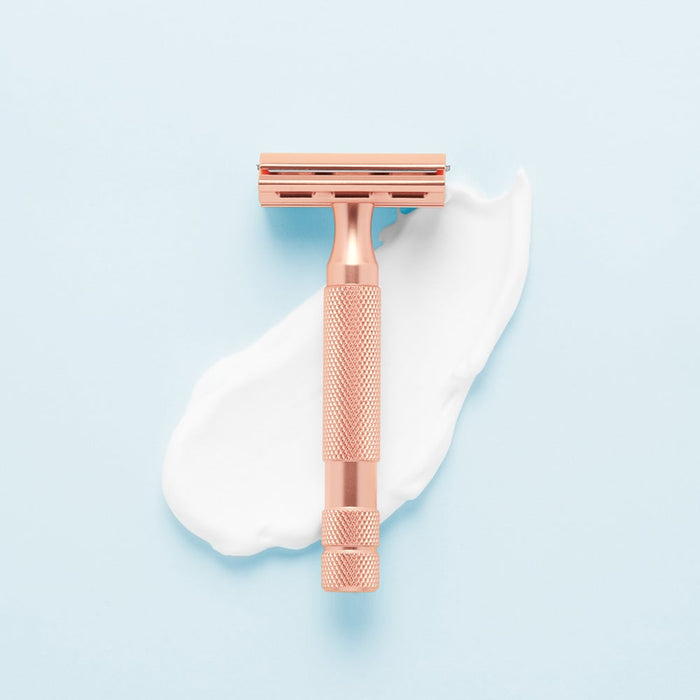 Rockwell Razors 2C Double Edge Razor - Rose Gold
Please Login / Register to view pricing and purchase products.
Improve your skin, stop plastic waste and save a fortune on shaving with the Rockwell 2C Razor. The 2C is perfect for budget-conscious beginners who Rockwell's "beginner setting" (R1) that makes it impossible to cut yourself shaving. Ditch overpriced plastic razors and subscription shave clubs for good and transform your shave into an experience you can look forward to. Eliminates bumps, razor burn, nicks and irritation - so you get the premium experience you deserve.

• Includes Rockwell sizes 1 and 3 - our most popular settings, making the Rockwell 2C a great beginner classic razor. Size 1 makes it impossible to cut yourself.

• Cast from premium high-end chromed zinc alloys with a striking White Chrome, Gunmetal Chrome or Rose Gold finish.

• Precision engineered blade angles provide the ultimate shaving experience.

• Perfectly weighted and balanced through unparalleled craftsmanship for intuitive handling and effortless glide.



• Eliminates shaving irritation and in-grown hairs for a close, comfortable shave, every time.

• Includes Rockwell sizes 1 and 3 - our most popular settings, making the Rockwell 2C a great beginner classic razor.

• Cast from premium high-end chromed zinc alloys with a striking White Chrome finish.

• Precision engineered blade angles provide the ultimate shaving experience.

• Perfectly weighted and balanced through unparalleled craftsmanship for intuitive handling and effortless glide.

• One Rockwell 2C Double Edge Razor

• 1 flippable base plates for Rockwell's most popular sizes

• 5 Rockwell pure Swedish Stainless Steel Razor Blades

• A lifetime of incredible shaves