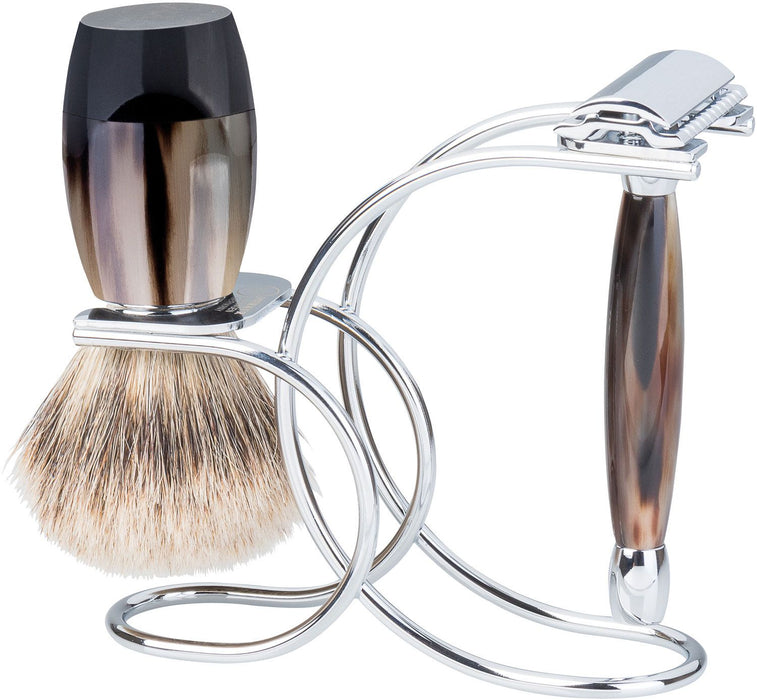 Merkur 2781 - 3pcs Shaving Set, Cow Horn, Bright Chrome Finish
Please Login / Register to view pricing and purchase products.
Description:
The perfect luxury gift, the MERKUR Model 2781 3-piece shaving set is featuring the classic 27C cow horn razor with a matching silver tip badger shaving brush, and a stand to hold all the components. The entire set features a bright chrome finish with polished natural African Cow Horn elements.
The MERKUR 27C is the most luxurious version of the originally in the 1920s developed 23C. Its reliable quality makes it a timeless classic: the long handle made from African Cow Horn and a straight foam edge ensure a particularly smooth shave. The MERKUR-specific spacious blade gap allows a high soap flow and also makes cleaning noticeably easier. The set also includes one free MERKUR Super Platinum Double Edge Razor Blade to get you started. Replacement blades are sold separately.
The set contains:
- MERKUR 27C African Cow Horn Double Edge Safety Razor (MK-27001)
- One finest quality silvertip badger hair shave brush, black and bright chrome handle (MK-127000)
- One matching stand with stylish polished chrome finish (MK-4002000)
- One MERKUR double-edge Platinum Super Blade
Product Details:
Dimensions of the stand width x depth x height (mm) – 120mmx45mmx110mm
Gross Weight of Set (g) – 480g
Honourably designed and Made in Germany.