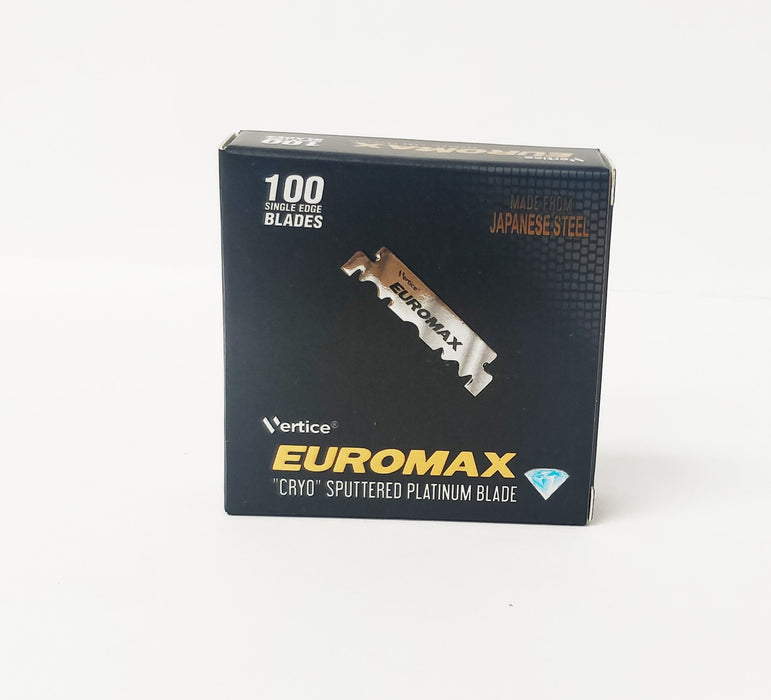 EUROMAX - CRYO SPUTTERED SINGLE EDGE - SALOON STYLE RAZOR BLADES - 100 HALF BLADES
Please Login / Register to view pricing and purchase products.
Description:
100 half blades, individually wrapped.  These are ideal for freehand razors with a replaceable blade. Single Edge Blades. Design for use in Barber Razors and Shavettes that accept 1/2 a double edge blade.  Just open the blade, and slide in the razor. No need to break it in half like other blades.

The Professional Salon Razor is one of a kind manufactured from India, which is the best salon razor produced with Japanese steel and with very strict standards of hygiene and quality control has put this product into the global markets.

Key Features:

Personnel Replacement Single Edge Razor Blades.


Comfort Coated For The Smoothest Shave.

Made with High-Quality Stainless Steel.

Tempered, Sharpened & Honed To Exacting Standards.

1 Pack of 100.
Made in India.