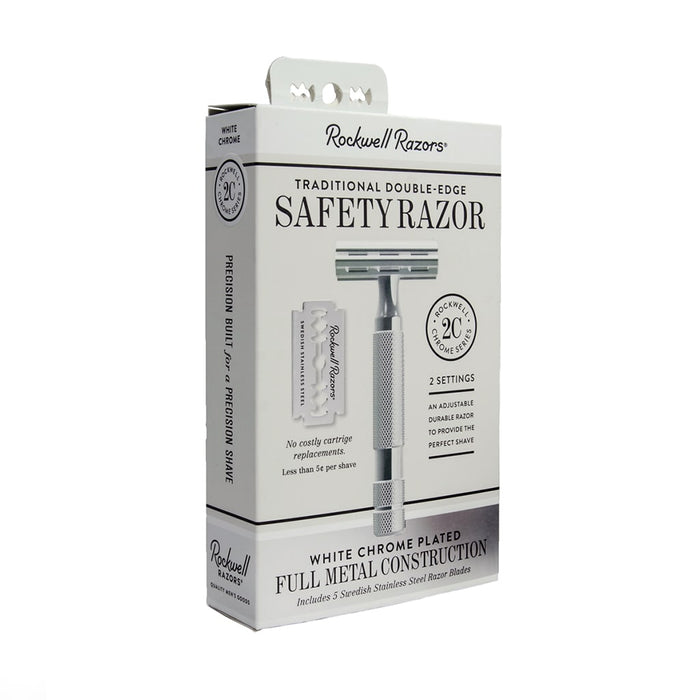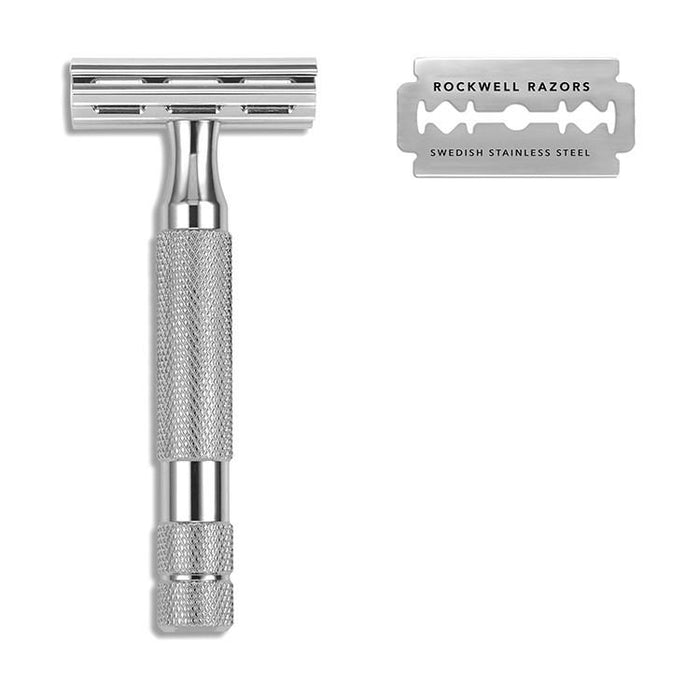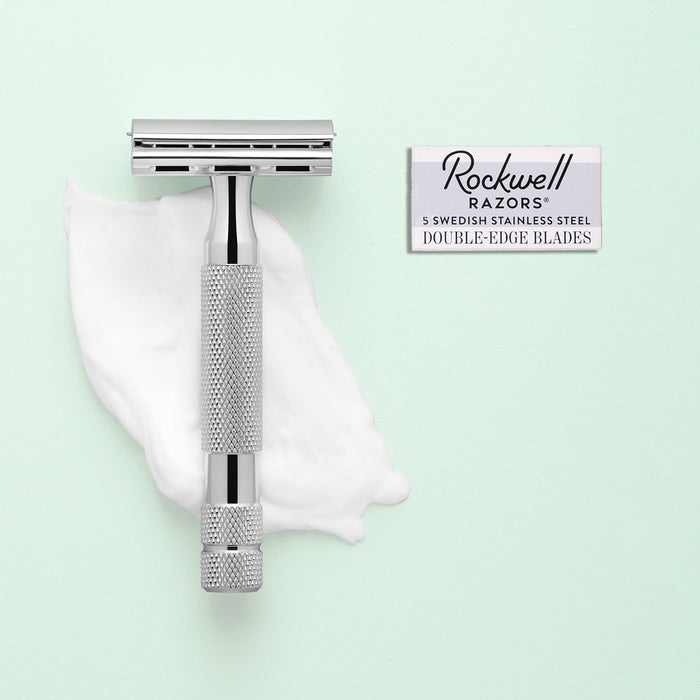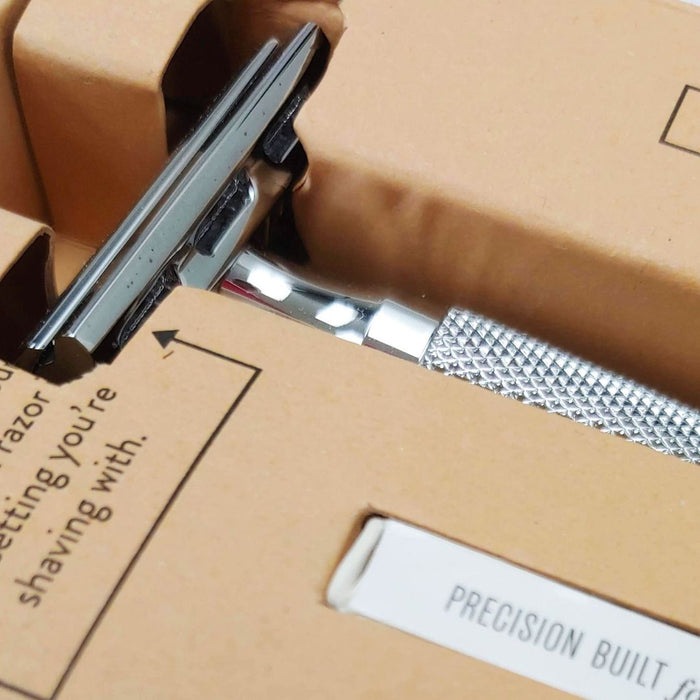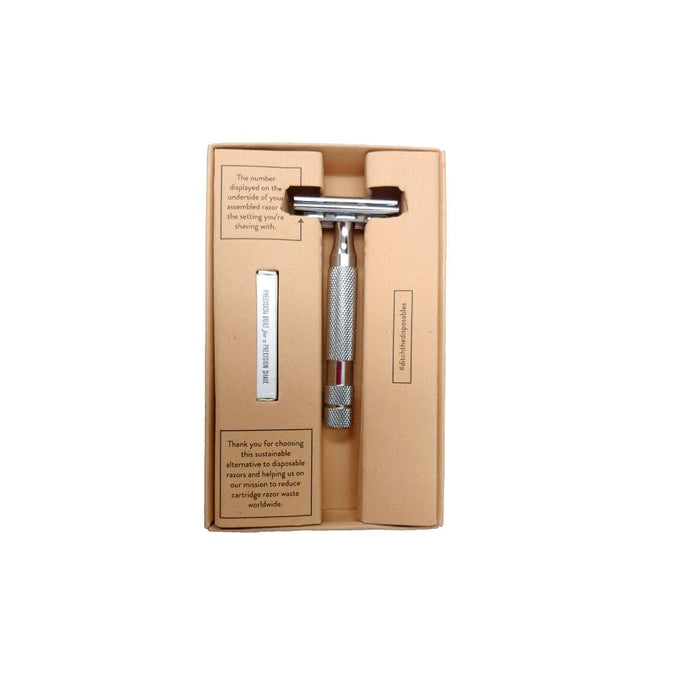 Rockwell Razors 2C Double Edge Razor - White Chrome
Please Login / Register to view pricing and purchase products.
Rockwell's innovative design eliminates shaving irritation and ingrown hairs FOR A CLOSE, COMFORTABLE SHAVE EVERY TIME.

NO MORE NICKS OR CUTS - The Rockwell 2C features Rockwell's patented R1 and R3 Settings on one flippable plate, so everyone can get great shaves with nearly NO RISK OF NICKS OR CUTS.

Package contains 1 Rockwell 2C Razor in Gunmetal, with 5 Rockwell Razors brand premium Swedish Stainless Steel Razor Blades.

This Rockwell 2C is cast from a premium high-end chromed alloy with a striking White Chrome finish.
From Rockwell Razors' signature line of wet shaving tools, the luxurious 2C is a customizable double edge safety razor that caters to light daily shaving as well as sensitive skin.
A cost-efficient option that saves users money with each use, Rockwell's 2C provides a great shave that is extremely cost-efficient and essential tool for barbers that's easy to bundle, makes a great gift, and an excellent source of reoccurring income.  
The Rockwell 2C includes Rockwell sizes 1 and 3. These are our most popular settings, making the Rockwell 2C a great beginner classic razor. The adjustable sizes that come with the Rockwell 2C ensure anyone can perfect a close, comfortable shave. This high-end razor combines revolutionary precision-engineered blade angles and patented adjustability to deliver an unparalled shaving experience. When coupled with Rockwell's pure Swedish Stainless Steel Blades, the 2C provides the ultimate, close shave at a value that will put you off cartridge razors for good. Cast from premium chromed zinc alloys, the Rockwell 2C's flawless finish is nearly as impressive as the incredible shave it provides. The Rockwell 2C is available in classic White Chrome and striking Gunmetal finishes. Designed in house.

*Please note:  Due to manufacturing delays, there may be lower quantities of stock on this item until mid November*

• Eliminates shaving irritation and in-grown hairs for a close, comfortable shave, every time.

• Includes Rockwell sizes 1 and 3 - our most popular settings, making the Rockwell 2C a great beginner classic razor.

• Cast from premium high-end chromed zinc alloys with a striking White Chrome finish.

• Precision engineered blade angles provide the ultimate shaving experience.

• Perfectly weighted and balanced through unparalleled craftsmanship for intuitive handling and effortless glide.

• One Rockwell 2C Double Edge Razor

• 1 flippable base plates for Rockwell's most popular sizes

• 5 Rockwell pure Swedish Stainless Steel Razor Blades

• A lifetime of incredible shaves