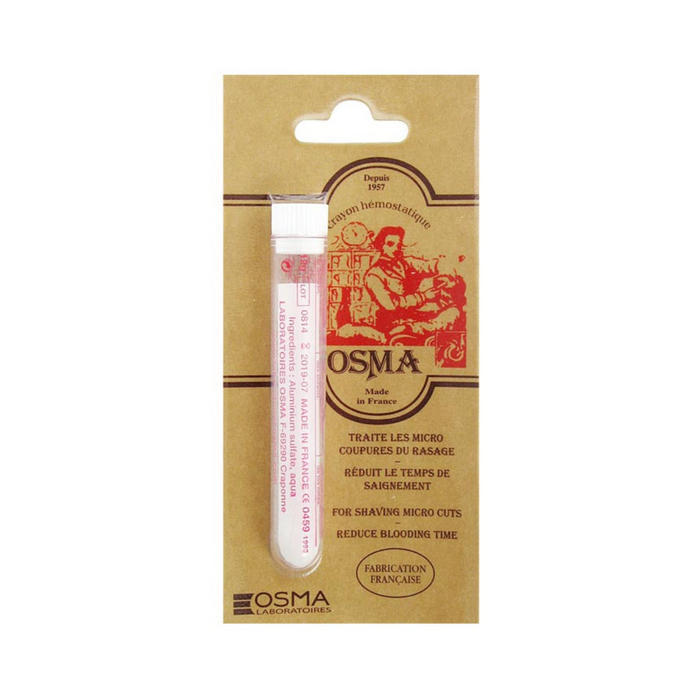 OSMA HAEMOSTATIC PENCIL 12 gr(Packaging) Pack of 6
Please Login / Register to view pricing and purchase products.
Hemostatic Pencil OSMA laboratoires 12gr
Osma laboratoires is the owner of CE 0459 for the production of hemostatic pencils. This CE mark is tangible proof of the quality and assurance of compliance with European legislation regarding the production of hemostatic products.
Apply the pen directly on the micro abrasions to reduce and then stop bleeding completely. Ideal for all shaving situations.
Our engagement
OSMA LABORATOIRES
Osma Laboratoires is one of the leading players in French men's cosmetics from 1957.
The recent explosion of male interest in cosmetics is not a simple fashion, but a return to the past of when the man loved to take care of himself he loved to go to the barber he loved shaving, fragrances and perfumes, he loved being part of the be a true Gentleman. Today, we are returning to what we were.
The teachings transmitted from father to son are the link that has allowed Osma Laboratoires to be loved, today by 2 generations of families and thanks to the enhancement of their knowledge in the field of shaving and constant improvement, Osma laboratories, will be increasingly loved and known by those who decide to place their trust in this company.
Osma laboratoires is the last remaining alum stone producer in France, but it is also the only one to create and renew products dedicated to male shaving, thanks to an ancestral knowledge of the processing of the raw material and the search for natural ingredients for the composition of its products
Old fashioned shave ... for today's man.
Pack Of 6.